It's time for another gaming news roundup here at F5 Games. This week we have some great news of our own to share as well as some great videos and trailers for upcoming releases. So settle in, grab some apple cider or something with pumpkin spice and let's get to the news.
Blackjack Masters Party Coming Soon to the Infinity Game Table by Arcade1Up
We have been hard at work this year developing new games and I am happy to say that the first of those games will be available very soon! Our next game, Blackjack Masters Party will be launching on the Infinity Game Table this month!
Blackjack Masters Party is an enhanced version of our popular mobile game Blackjack Masters that expands the gameplay so that up to 4 players can play together just like they were sitting at a real casino table. Now you can learn to play Blackjack, and practice your skills and card counting, with your friends anytime at home. For more info about the game, check out the game announcement here and make sure you are following us on Twitter and Facebook to be notified as soon as it is available.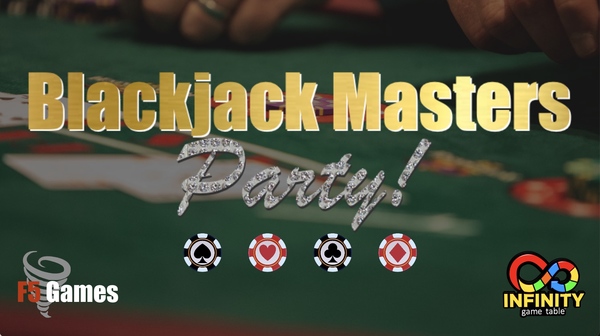 IGN Gets a First Look at the Halo Infinite Campaign
The hype train for Halo Infinite is really getting into gear as we get closer to the December 8th release date and this week it is IGN who is laying the track. IGN had an early look at the campaign and was able to spend several hours checking out what 343 has in store for Master Chief. If you want to come into the game without any knowledge then move along, but it you are interested in getting a closer look at what the next Halo campaign has in store check out the video below for IGN's take on Halo Infinite.
Elden Ring Gameplay is Pulling Me Back In
I have told myself, again and again, that From Software games just aren't for me. I am not going to have the time and talent to 'Get Good' and make it through Demon's Souls or Dark Souls. It's just not going to happen. So I need to stop buying their games and move on. But I know it's happening again. I can feel my resolve slipping away bit by bit. I know that I will buy Elden Ring early next year and think that, this time, things will be different.
Elden Ring really does look that good. It already seems like one of those games that the industry will be talking about for the next several years in articles and conference talks. By taking the hardcore gameplay of the Souls games and combining it with the wide open world and exploration of Breath of the Wild, I think From Software is on the cusp of shaking up the industry again just like they did with Dark Souls so many years ago.
Don't just listen to me though, check out the gameplay video below to get a feel for this new world and the horrors waiting to be overcome by all of us next year.
Voice of Cards Impressions
For our final section today I want to talk about a really interesting game that I have spent a little time with and really enjoyed. Voice of Cards: The Isle Dragon Roars is a new downloadable game by NieR creator Yoko Taro that recreates that old-school role-playing game feel that we love here at F5 Games. As the name implies, Voice of Cards, is a digital game that focuses on the Voice of a Dungeon Master and physical elements of old school role playing like Cards, Dice, and a tabletop. Nearly every element in this game is a card, characters are represented as cards, equipment are cards, skills, enemies, even the terrain you move through is all presented as cards. It is a really interesting concept and you can tell that the team has enjoyed pushing the tactile feel of every element throughout development.
I have only played the first few 'quests' so far but I really enjoyed my time with the game and was pleasantly reminded of the early Dragon Warrior games from the NES days. If that sounds like something you might be interested in then I recommend checking out the game or downloading the demo to see what you think.
That's all for this week folks. As I said at the top, we are excited to be releasing our next game, Blackjack Masters Party, in the next few weeks so keep an eye out here and on Twitter or Facebook for all the details as we get closer to launch. Until then, have a great weekend and happy gaming!