Our next game, Blox Blast, is a fast action puzzler where you have two minutes to rack up the highest score possible. To score points you slide whole rows and columns of blocks on the screen to form squares of 4 or more like-colored blocks. You can compare scores with your Facebook friends and compete with them to win weekly tournaments as well as track lifetime high scores through Game Center.
Gameplay
Blox Blast uses the characters and powers from our highly rated puzzle game IncrediBlox but instead of dropping blocks to create squares you slide a whole row of blocks at once, similar to how you play with a Rubik Cube. This play style allows you to set up moves that will combo across the board, clearing squares and activating the IncrediBlox special powers. Check out this video to see some of this sweet combo action.
The key to getting a high score is to keep your combo streak going. You'll have just a few seconds after each square is cleared to to set up another one and continue your combo. In testing we're consistently getting combos of more than 100 blocks at a time and it makes a huge difference in your final score.
Powerups
Before each round you can choose up to 3 powerups, from a group of 6, that can really boost your high score. Some of them are active throughout the entire 2 minute session while others need to be tapped by the player and activated at just the right time. The video below shows off two of these powerups. The first is Freeze Time, which stops the timer and keeps squares from activating so you can set up a cascade of blocks to all activate at once. The second powerup is Point Doubler, which lets you earn twice the points for any blocks you clear while it's activated. Check it out!
Friendly Competition
Once you're done scoring tons of points in Blox Blast you can connect the game to Facebook and see how you stack up against your friends in the weekly tournament. From the image below it looks like I need to work a little harder if I'm going to catch Oliver and his awesome fro.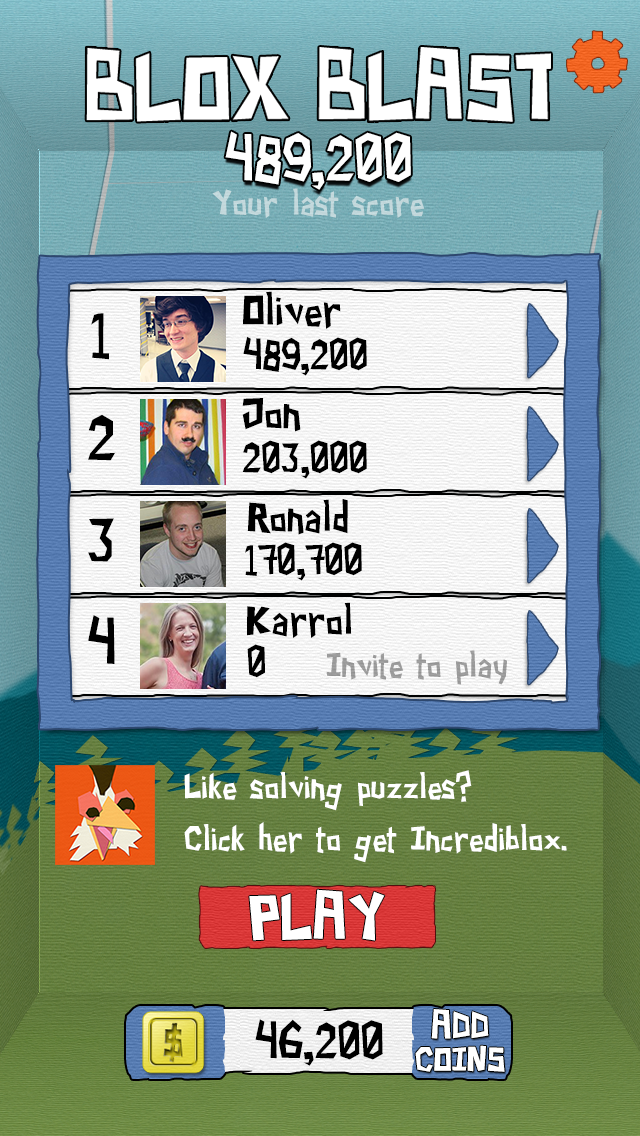 Blox Blast will be available for iPhones, iPads, and Android devices at launch. We're expecting to release it on both the Apple App Store and Google Play on October 17th. We've really had a lot of fun building Blox Blast and I'm sure you'll have a lot of fun playing it. Stay tuned for more updates in the weeks ahead and make sure to check out Blox Blast on October 17th.